In Portugal's Algarve, this historic inn is reclaiming its former life, having reopened as the five-room Hospedaria hotel.
It's located in a quiet spot between sea and mountain, not far from the coastal town of Tavira. A hundred years ago, the building was a hub of social activity, functioning as a tavern and a place to buy and sell local produce. After standing dormant for the last 30 years, architects Atelier RUA has renovated the space.
The boutique hotel – founded by Rui Liberato de Sousa, who also owns the nearby Pensão Agrícola – maintains a rustic feeling, with rough-hewn wooden furniture, wicker ceilings and whitewashed walls contrasted by industrial light fittings and smooth concrete floors. Downstairs, the building's tiny original bar has been put back into service.
Each of Hospedaria's five rooms has its own outdoor space, shaded by thatched awnings as well as the branches of fig and almond trees. Slow living order of the day and guests can reserve picnics and parasols for beach trips, or spend the day dipping in the hotel pool. Rooms at the Portuguese hotel start at €170 per night.
When you staying at this lovely hotel, spend a day on the Island of Armona, and book a table at Armona4!
8800-072 Cumeada, Conceição de Tavira, Portugal
Photography: Francisco Nogueira
Photography: Francisco Nogueira
Photography: Francisco Nogueira
Photography: Francisco Nogueira
Photography: Francisco Nogueira
Photography: Francisco Nogueira
Photography: Francisco Nogueira
Photography: Francisco Nogueira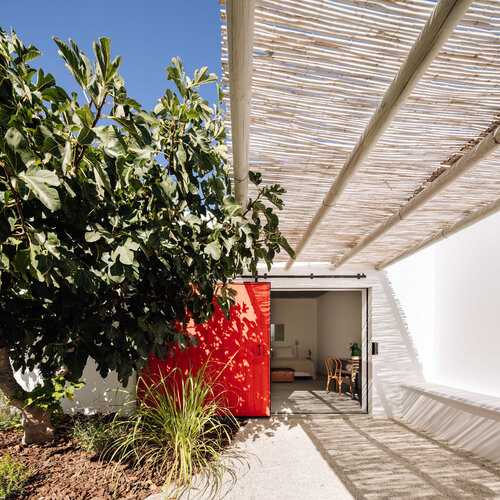 Photography: Francisco Nogueira
Photography: Francisco Nogueira